In Mississippi's Republican Senate primary, Sen. Thad Cochran pulled off a miracle in his runoff fight with tea party-backed Chris McDaniel by expanding the pool of GOP voters from the low turnout June primary. Cochran allies credit the Chamber for producing a television ad starring football legend Brett Favre, a Mississippi native who endorsed Cochran late in the race.
The Chamber is hardly a new player in political campaigns, having dabbled in elections up and down the ballot statewide and federally for the better part of two decades, usually backing Republicans over Democrats in general election contests, late in the race rather than early, and never taking sides in primaries.
But Chamber officials say the business community's growing exasperation with Washington intransigence demanded a juiced-up political program this cycle – both in Republican primaries and with early advertising salvos against targeted Democrats.
"We just can't take for granted anymore that good people will run for office and that they will win," says Rich Studley, the Michigan Chamber of Commerce CEO.
The old Chamber wisdom was that governing and campaigning were more or less distinct enterprises, in which the lobbyists and wonks handled business downtown while the political team did its best to assist its favored candidates every election year.
Today that sounds naïve.
No longer can the Chamber dabble late in political races and hope to shape policy once legislators arrive in Washington, Engstrom says, kicking back in his spacious office inside the Chamber's headquarters on H Street. It has to strike first.
That means going in hard for allies like Cochran and Senate Minority Leader Mitch McConnell, the kind of Republicans who don't recoil at terms like "appropriations" and "earmarks" — federal spending that economic developers depend on. It also means savaging enemy Democrats, like North Carolina Sen. Kay Hagan and Alaska Sen. Mark Begich, earlier than ever before.
"The bottom line is Tom, Scott and Rob have opted to lead, and take smart, savvy risks," says Mike Murphy, the veteran GOP media consultant who helped produce the Favre ad in Mississippi. "That has made the Chamber the tip of the spear in a lot of critical races."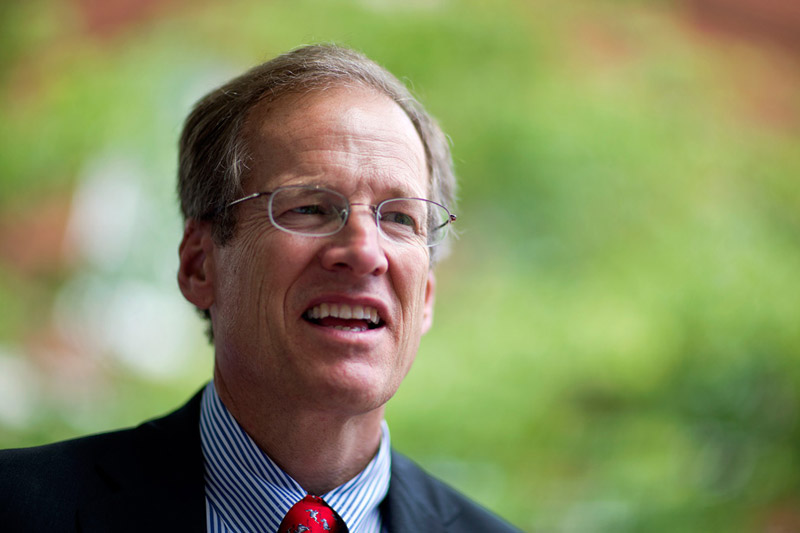 In Georgia, the U.S. Chamber interviewed several candidates in the Senate race but decided to back Rep. Jack Kingston, putting more than $2 million into the state on his behalf. Kingston, though, lost the Republican primary to businessman David Perdue, a rare loss this cycle for the Chamber. (Photo: Associated Press)
In North Carolina, it has already dropped about $1 million attacking Hagan and propping up GOP nominee Thom Tillis. And it unleashed roughly the same total in Kentucky for McConnell, who faces a stiff challenge from Democrat Alison Lundergan Grimes. In Georgia, the Chamber pumped $2 million into the state to aid Kingston, who narrowly lost the Republican Senate runoff this week to businessman David Perdue -- a rare stumble this cycle for the cocksure organization.
The Chamber's political operation is "the teeth in the dog" for the business lobby, Engstrom explains. "Our deal is to have a political program so that there is a hammer, and there is a consequence, and there is leverage and it's aggressive," he says. "But that balances the much larger priority, which is creating certainty for our members, and to remove the threat that we have faced from Washington for the last six years."
Engstrom is talking about the "job-killing policies" of President Barack Obama. But part of the Washington threat, he's quick to acknowledge, comes from within the Republican Party.
Since Obama took office, the Chamber's unabashedly corporate bent – it claims a membership of more than three million American businesses -- has put it at odds with tea party conservatives. The Chamber supported the Wall Street bailout, and then Obama's $787 billion stimulus package and subsequent government bailouts of Chrysler and General Motors.
Those momentous financial decisions in Washington fueled grassroots anger against Obama, Democrats, and establishment Republicans who were accustomed to the occasional compromise. The anti-establishment tea party wave of 2010 brought a Republican majority back to the House – but the small government crowd also brought with them a host of headaches for bottom-line business interests.
Chamber officials say their members were horrified by last year's brinkmanship over the debt ceiling that climaxed in the 16-day partial government shutdown, a stalemate welcomed by tea party Republicans in the House and Ted Cruz, their conservative spirit guide in the Senate.
This year, the Chamber's support for business-backed legislation – big-ticket items like comprehensive immigration reform and a long-term highway bill -- has at times put it on the same side of the political argument with Democrats and labor unions. But those efforts have been met by staunch tea party resistance in the House.
"We don't need to send any more people to Washington, D.C., whose agenda is to vote no all the time, fight with everybody all the time and shut the place down," Studley says.
The Chamber is fed up – and getting even.
"If we see a threat materializing, if we see somebody attacking one of our friendly incumbents like Mitch McConnell or Mike Simpson, then we are required to get in early and frame the debate before its defined," Engstrom says. "If we wait for this narrow strain of self-appointed fake conservatives to set the terms of the debate, establishment versus 'real conservatives' in their mind, then we are going to have a difficult time responding to that."
In a GOP primary in North Carolina's 7th Congressional District this spring, the Chamber battered tea party candidate Woody White with a blistering television ad comparing the Wilmington lawyer to John Edwards, who made his name and fortune in North Carolina as a successful plaintiff's attorney. It outspent every outside group playing in the race by a combined 3-1 margin. White lost.
It did the same in Idaho's 2nd District, going in guns blazing to defend Rep. Mike Simpson against attorney Bryan Smith, who was backed by tea party outfits and the conservative Club For Growth. The Chamber went up with a $500,000 ad buy accusing "trial lawyer" Smith of supporting junk lawsuits. It also brought in reinforcements, tapping Mitt Romney, who had an 86% favorable rating in the heavily Mormon district, to star in a television ad endorsing Simpson (Romney taped the ad in just one take, Chamber aides note with evident awe).
The Chamber hasn't targeted every Republican candidate with tea party billing. Candidates who pass its smell test are left alone. In the Nebraska Senate race, Reed says they were inclined to support Ben Sasse, a health care expert and Harvard grad backed by a constellation of right-leaning figures like Cruz, Sarah Palin and Utah Sen. Mike Lee. But they stayed out.
"Ben Sasse, to my eyes, was the most impressive candidate of this cycle," Reed says. "He reminded me of Jack Kemp. But based on our local partnership, they said we don't need to get in. They said all of the candidates are good, so we decided to stay out. … There is no such thing as a litmus test for us. The only litmus test we have is against those candidate who want to come in and shut the whole damn place down."
Still, the Chamber's primary blitzkrieg and its continuing pleas for immigration reform this summer have only stirred up more fury on the right.
When Donohue issued yet another call for an immigration package earlier this year, saying that Republicans should give up hope of winning the 2016 presidential race if they don't act now, conservatives erupted, accusing the Chamber of supporting amnesty to line the pockets of big business. Radio talk show host Mark Levin fulminated at length on his show about the "Chamber of Crony Capitalism," calling Donohue a "jerk."
"They like laws that benefit them, they like regulations that harm their competition," Levin went on. "That's not capitalism. Call it what you will, that is not capitalism. Mr. Donohue gives capitalism a bad name. … This is the guy that has bought and paid for the Republican leadership. This is the guy who is pouring millions of dollars into these primary campaigns to buy the Republican Party and buy the candidates."
Rush Limbaugh has also gone after Donohue and the Chamber, as have a host of conservative bloggers who were incensed after McDaniel lost in Mississippi. In Georgia's Senate runoff, Kingston lost to businessman David Perdue, a loss that conservative blogger Erick Erickson attributed to the Chamber's support for immigration reform. Perdue highlighted Kingston's Chamber support in a late television ad, claiming that his opponent supported "amnesty" for undocumented immigrants.
But with most big primary contests now in the rearview, one team is clearly winning – and it isn't the tea party.
Source : https://www.cnn.com/interactive/2014/politics/hamby-midterms-chamber-tea-party/
1524